Carl Brister – "Enough Is Enough"(Video Premiere)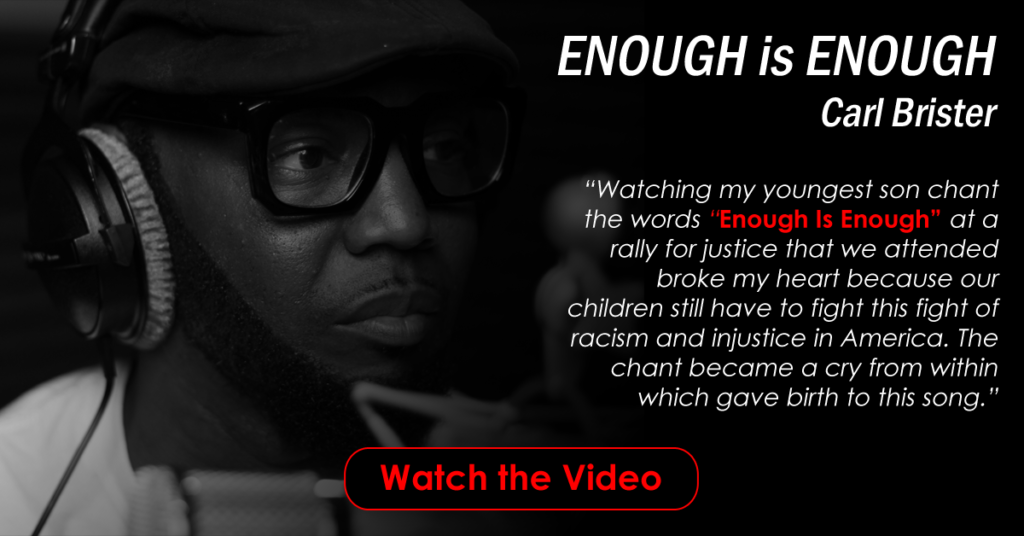 Carl Brister (who we had the honor of helping to kickoff his L.O.V.E. Virtual Tour right here back in May) brings to the world a much needed admonition – "Enough Is Enough". A musical lamentation, the sound and story build to a climactic ultimatum with each passing measure. America is being putting in her place right here on record: "Enough Is Enough… I Can't Breathe." The underlying "How long, too long?" burns at the core of the composition.
The starkness of the black and white video rendering is not lost on these eyes. Visuals in the video from this past summer, a season of protest, a season often known for its vibrancy and day glow coloring truly has been a monochrome moment in time. Carl Brister captures this eloquently as he at once implores the aural and visuals sides of our consciousness. This is our story, this is our song for we've been telling this story entirely too long. Enough truly is enough. There is a message not only in the music but watch the video all the way to the end. The message Carl Brister has for us in the truly the genesis for change.
"Enough Is Enough" from Carl Brister is available on digital platforms everywhere.
credits:
Written and Produced by:
Carl Brister
Co-Producer: E. Rooks
Video Director: Ralph Desmarais
Original Photography: Ricardo Robinson
Background vocalist: Janelle Adames
Audio Recording/Video Location: Savion Studio, Orange NJ
Official Website: www.carlbrister.com
Instagram: http://www.instagram.com/CarlBrister
Facebook: http://www.facebook.com/CarlBristerOfficial
Twitter: http://twitter.com/CarlBrister
YouTube: http://youtube.com/user/CarlBrister